The CSCS card is part of a training scheme to enable construction workers to enhance their career and work with a greater level of awareness over safety and risks of accidents and injuries while working on a construction site.
For a construction worker holding a CSCS card, it can offer them more opportunities than not having one. Construction employers now actively seek out candidates that hold CSCS cards because they know they will have received a very sound level of safety training that is essential when working on a building site.
The card will give you a nationally recognised piece of evidence of your skills, training and qualifications. Most construction companies will ask for this credential as an essential requirement for any job applicants to ensure they will end up with well-trained employees.
Different types of CSCS cards
CSCS cards come in a variety of different types, each one reflecting a different level of skill, knowledge and training related to working within the construction industry.
When starting in a career in the construction industry, it can seem a bit confusing to know which CSCS card you should be applying for. For those new to construction without any relevant qualifications, it is normal procedure to access the entry-level CSCS card, known as a Labourer Card. You don't need to have any specific academic qualifications to apply for this card or have had any prior experience of working in the construction industry.
To qualify for the entry-level CSCS card or any of the other available CSCS cards, you will first need to have passed the CITB Health, Safety and Environment Test (CSCS Test) within the last 2 years. This is a standard test that assesses an individuals awareness of important safety features on a construction site, as well as what goes into making a productive and effective construction site.
CSCS training courses and tests are not expensive and they can be self-funded if you want to gain the CSCS card as an individual, or your employer can cover the cost of training for you.
For an employer applying on behalf of your employees, you will need to book them onto the CITB Health, Safety Environment Test which can be done on the CSCS website.
What is the CITB/CSCS Health, Safety and Environment Test?
To qualify for a CSCS card, a candidate must have passed the relevant version of the CITB Health, Safety and Environment (HSE) test, which is more commonly known as the CSCS Test.
Each level of CSCS card will have a different test attached to it to accommodate for the different occupations the card covers. For example, there will be a different CSCS card for an entry-level construction worker than an employee in a supervisory role.
The test itself is made up of multiple-choice questions that cover many aspects of the health, safety and environmental issues and risked posed in a construction environment. The test is used to assess the candidate's knowledge across a wide range of topics to ensure they are aware of the main health and safety features on a construction site.
The test is taken on a touch screen computer interface and once qualified, the accreditation will last for two years before expiring.
What are the Different CSCS Card Types?
It is fast becoming a requirement for anyone wishing to work in construction to hold a CSCS card. No matter whether you are just starting at entry-level or you are already an experienced construction worker. You must gain and hold the right CSCS card for your level of skill and knowledge within the industry.
The purpose of the CSCS cards is to ensure that anyone working on a construction site holds the correct level of knowledge and skill to make sure the site is a safe environment for workers and visitors to the site.
There are different CSCS cards and these reflect the different levels of skills and knowledge construction workers hold. So you must apply for and hold the correct CSCS card for the type of work you undertake on-site.
What does the colour of the CSCS card mean?
Currently, there are 13 different CSCS card types, although this may change in the future as previous CSCS cards have been phased out, such as the yellow visitor card, or have been replaced by new cards.
The current cards come in seven different colours which is a simple way to reflect the skill level, qualifications, and occupation of a cardholder. The colours start with the lower-skilled occupations with the Green and Red CSCS cards, which are the cards used by entry-level workers who have a qualification in construction and have passed the required CSCS Test.
As each construction worker increases their skill and knowledge level, and gain more qualifications, the colour of their CSCS card will change to reflect this. So, for example, the card colour will change in the following order:
Green and Red entry-level CSCS cards
Blue, Gold and then Black cards for manager level
White cards are for an academically or professionally qualified person
Up until Feb 2020, there were also yellow CSCS cards for construction site visitors to a construction site who are not qualified construction workers. For example property owners or company directors visiting the site. As these cards have now been phased out, it is the responsibility of the site manager or supervisor to ensure site visitors are inducted and kept safe while on site.
Let's take a deeper look at each card and who they are best suited to:
Green CSCS Card – Labourer
The Green CSCS Labourer Card is for people that work in, or are looking to work in, manual labouring occupations on a construction site. This card is only required for an entry-level worker, but holding the card still demonstrates that the worker has a sound level of understanding of how a construction site operates and an awareness of the health and safety risks posed in the workplace.
To qualify for a green CSCS card you can hold a range of acceptable qualifications, such as: the QCF Level 1/SCQF Level 4 Award in Health and Safety in a Construction Environment, or SCQF Level 5 REHIS Elementary Health and Safety Certificate.
On top of this, green CSCS card applicants must also have passed the CSCS Test for Operatives. This test is quite straightforward and uses multiple-choice questions set at different levels depending on what card you are applying for. The questions all relate to the health, safety and environmental issues in construction. Green CSCS Card is valid for five years and can be easily renewed after this time.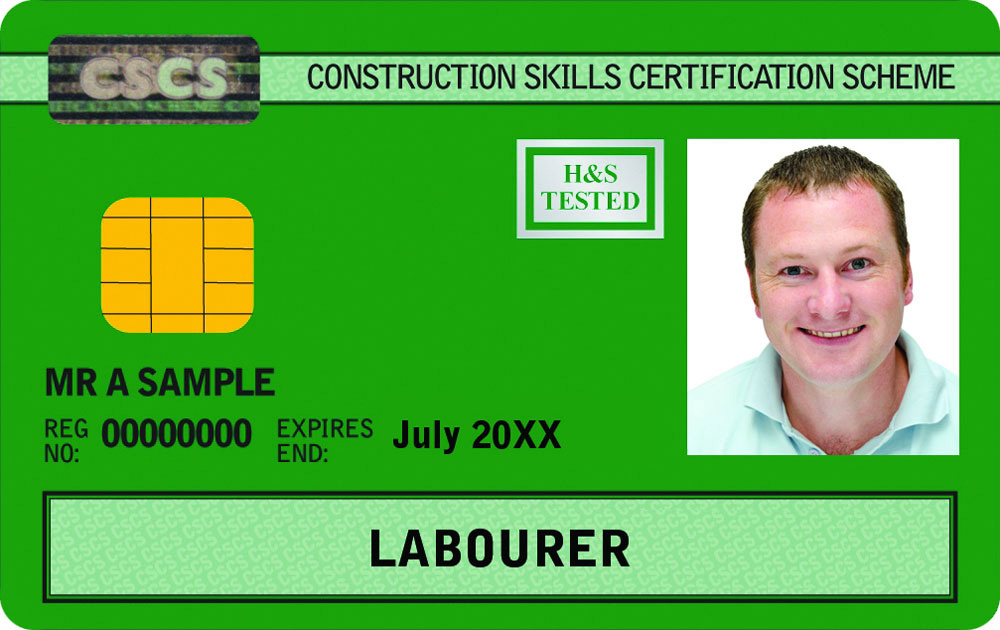 Red CSCS Card – Apprentice
The red CSCS Apprentice card is ideal for those who are either in the process of completing or have completed an apprenticeship on an accredited and recognised apprenticeship scheme. The red card allows holders to get the hands-on experience on-site they need, whilst undertaking an apprenticeship.
To qualify for the Red CSCS Apprentice Card, a candidate needs to provide evidence that they are registered on a recognised apprenticeship scheme. Holding the red CSCS card shows that you have met the required health and safety training needed to enter a working construction site. The Red CSCS Apprentice Card is valid for 4.5 years and cannot be renewed.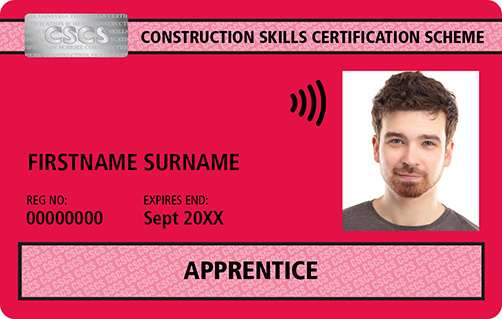 Red CSCS Card – Technical/Supervisor/Manager
There is also a temporary red CSCS Card available for an Experienced Technical, Supervisor or Manager role. This temporary card is used by Technical Workers, Managers and Supervisors who have at least one years experience working in their role within the previous three years. It is a card that is used for workers planning on upgrading their construction-related qualifications.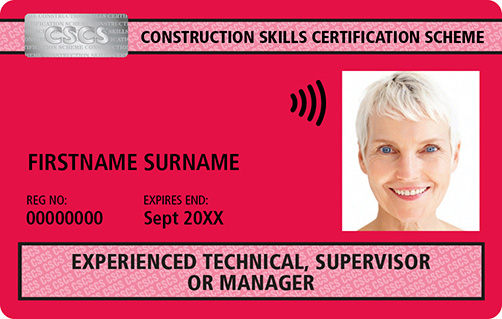 Red CSCS Card – Experienced Worker
This is another temporary red CSCS card and is for workers with on the job experience of construction, but do not have any construction-related qualifications yet, but are working towards such a qualification. Applicants need to have one year's work experience in a construction-related occupation, and be undertaking a CSCS recognised NVQ/SVQ qualification.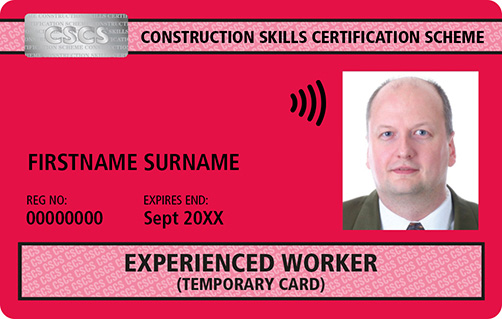 This is an entry-level card for workers just starting out as a trainee in construction. The card shows employers that you are enrolled on a construction-related training course and have met the industry requirements in health and safety knowledge for your role. Red CSCS Trainee Card is valid for five years and cannot be renewed.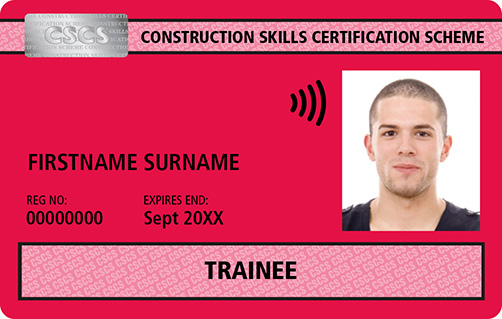 Red CSCS Card – Provisional
The Red CSCS Provisional Card is only awarded to those who have never held a CSCS card before. It is for workers that are on a probationary period and are not yet registered on any construction-related training courses. Card allows a person to work on a construction site whilst under the supervision and allows the employer to assesses their suitability for employment.
This card gives a worker the option of trying out a chosen trade before committing to any training or qualifications. It is an ideal card to obtain when you are deciding on what sort of construction career path you want to follow.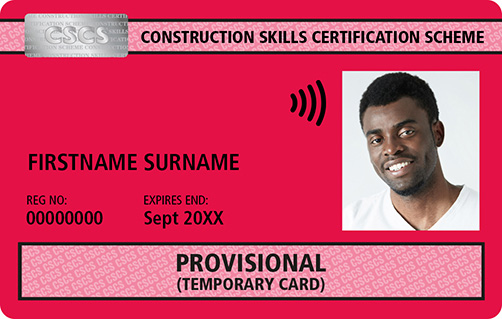 Blue CSCS Card – Skilled Worker
This blue card is for workers that have achieved a relevant construction qualification or completed an approved CSCS apprenticeship. Candidates need to have an NVQ or SVQ level 2 in a construction-related subject, an employer-sponsored apprenticeship, a City and Guilds of London Institute Craft Certificate or a CSCS Approved Trailblazer. The Blue CSCS Skilled Worker card is valid for five years and is eligible for renewal.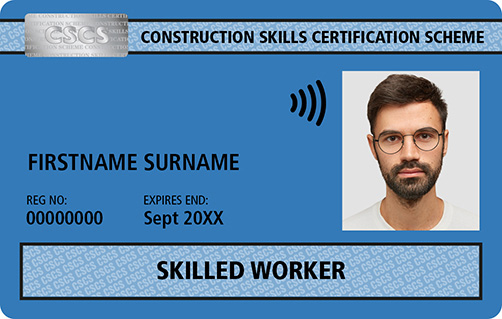 Gold CSCS Card – Advanced Craft
The Gold CSCS Advanced Craft card is for individuals who are highly skilled within their field in the construction industry and have advanced NVQ/SVQ qualifications. Gold CSCS Advanced Craft card is valid for five years and is eligible for renewal.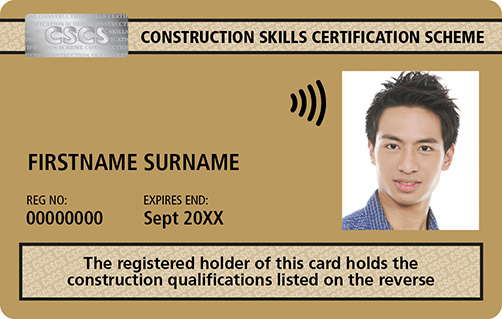 Gold CSCS Card – Supervisory
The Gold CSCS Supervisory Card is for those working in a supervisory role within the construction industry. This card is for those with a high skill level as well as experience in supervising other workers within a construction role as well as a level 3 or level 4 NVQ or SVQ qualification in a construction environment. The Gold CSCS Supervisory Card is valid for five years and can be renewed.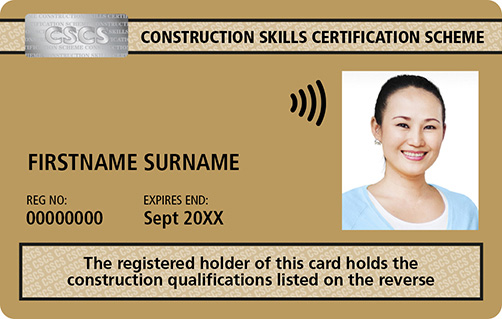 Black CSCS Card – Manager
The Black CSCS Manager Card is for managers and those in technical occupations. It is for those with both experience in a managerial capacity as well as the acquisition of high-level construction-related qualifications such as an NVQ/SVQ level 4, 5, 6, or 7 within a Construction Management/Technical related subject. Black CSCS Manager Card is valid for five years and can be renewed.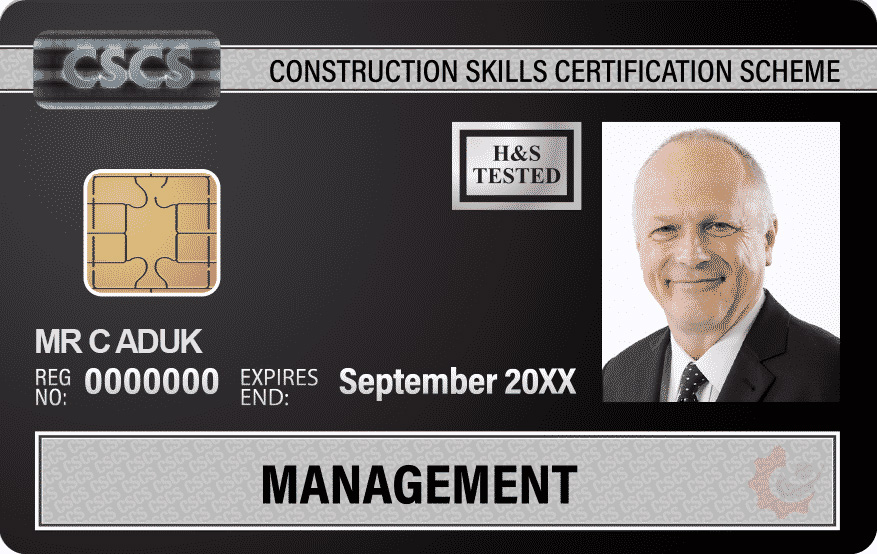 AQP CSCS Card – Academically Qualified Person
This is a card for workers that have completed a degree, HND, HNC, CIOB Certificate or NEBOSH diploma in a construction-related subject. This card recognises other construction-related qualifications other than NVQs. The AQP CSCS Card is valid for five years and can be renewed after this time.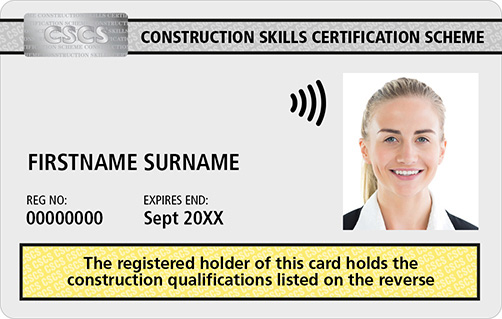 PQP CSCS Card – Professionally Qualified Person
The PQP Card is for site visitors that may not be regularly based there, such as professional architects, surveyors and inspectors. These cardholders will still need a CSCS card to prove they have the skills and knowledge required to work in a construction site setting. The PQP CSCS Card is valid for five years and is possible to renew.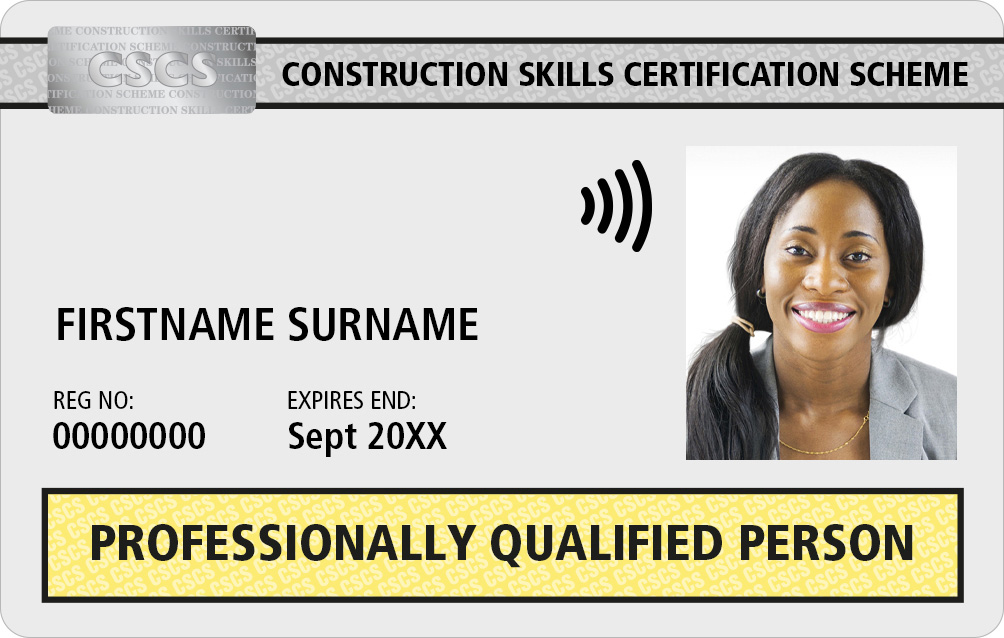 Yellow CSCS Card – Construction Site Visitor Card
The Yellow CSCS Construction Site Visitor card was originally designed for those needing to visit a construction site but don't have any construction skills training or qualifications, such as company directors and property owners. Yellow card was discontinued from 28th February 2020, and all issued yellow cards expired on 31st August 2020.
It is now the responsibility of site supervisors and managers to induct visitors to the site and ensure they are kept safe on the construction site.